What do a cheerful undertaker, a drag Tori Amos tribute act, a 92-year-old carer and a blind teenage girl have in common? The clue's in the title of the show in which they all appear: The Piano. Truly, all human life is here. And, it turns out, all of them can tinkle the ivories in spectacular style.
The new Channel 4 contest from the makers of The Great British Bake Off is a search for undiscovered keyboard talent which taps into the "street piano" phenomenon. Over the past decade, come-and-have-a-go instruments have sprung up in stations, shopping centres and other public spaces. Passers-by are encouraged to either sit down and play, or stop and listen. Smiling crowds, jolly commutes and viral videos have resulted.
Now comes "Bake Off for pianos", a show which swaps baking sheets for sheet music. Host Claudia Winkleman invites gifted amateurs to perform at four of the UK's busiest stations – London St Pancras, Birmingham New Street, Leeds and Glasgow Central – before a fiendish plot twist. Unbeknown to hopefuls, this isn't a documentary – it's a competition. They are secretly being judged by two globally renowned maestros: classical virtuoso Lang Lang and pop star Mika. They select the best contestants to play to an audience of thousands in the concert finale.
Both are multiple platinum-selling artists who sell out gigs pretty much anywhere. What persuaded them to take part for – as series creator Richard McKerrow admits – "not much money"? Eagerness to spread the piano gospel. "TV has never really had a piano competition accessible to everyone," says Lang Lang. "We've had professional contests or series for vocalists but never just piano. This instrument really is for everybody. Piano connects people, it touches hearts. This is the sort of show I've always wanted to do."
For Mika, the appeal was the show's sweetness and lack of cynicism – as you might expect from Love Productions, who also make The Great British Sewing Bee and Great Pottery Throw Down. "The concept was quite pure," he says. "It's so refreshing to talk about music and musicians without the stereotypical pathos, 15-minutes-of-fame approach of every other TV contest." Steering clear of sob stories doesn't mean The Piano lacks emotion. Every episode has several spine-tingling moments. "You'll laugh and cry so much it should be sponsored by Kleenex," says Mika.
McKerrow says the judges' chemistry reminds him of the original Bake Off, so who is Paul Hollywood and who is Mary Berry? "Claudia can decide," says Mika. Winkleman mulls it over. "Well, I'm more Noel Fielding," she concludes. "I reckon you're both Mary. She's a goddess." "A goddess in fabulous blouses?" says Mika. "I'll take that." Lang Lang looks baffled.
Even by the standards of its sister series, The Piano's contestants are hugely diverse. Their ages span from six to 95. They play jazz, pop, classical, boogie-woogie, hip-hop, even house bangers. Some opt for classical repertoire or songbook standards, others their own compositions. Some let their fingers do the talking, others sing or rap on top. What the judges are looking for is passion, personality and pure technique.
As Lang Lang says: "Whether it's a little kid or an octogenarian, I want to feel their soul and learn their story. Many pianists play very well technically but it's mechanical." "Amateurs bring honesty," says Mika. "They wear their heart on their sleeve in a way professionals just aren't able to do."
Without spoilers, I ask the trio to each pick their most memorable contestant. "I just adored Jared," raves Winkleman. "He's a 21-year-old mechanic who came along to St Pancras in oil-stained denim shorts on his break from fixing trucks. He only took up music in lockdown and learned honkytonk by watching YouTube. He put his spanner down on top of the piano, started playing and the whole place exploded."
"I was fascinated by a guy called Sean," says Mika. "He was 26, on the autistic spectrum and the opposite of Jared in many ways: prickly, unapproachable, with huge mood swings. But when he plays piano, it melts your heart." "Mine was this amazing girl named Lucy," says Lang Lang. "She's blind and developmentally delayed but music has changed her life. She can't hold a conversation but communicates through the piano. When she plays, you see the whole universe within her."
Key to The Piano's format is the element of surprise. "Playing in train stations rather than concert halls makes it much more casual and spontaneous," says Lang Lang. It also provides a dramatic climax to each episode, as Winkleman gathers the contenders to reveal the truth, before bringing out the judges to announce their winner. "They have no idea they're being watched," says Winkleman. "But not in a creepy way – in a charming way."
Winkleman was wowed at every turn. "It's extraordinary how a pianist can move a whole station," she says. "People are racing to work or rushing off on holiday. Children are crying, parents are stressed. But a pianist can just bring everything to a standstill. They sit down and make time stop. For a music moron like me, it's incredibly powerful." Lang Lang agrees: "In a train station, people come and go but when the magic happens, suddenly the crowd stays."
Shooting the show had its fair share of challenges. "Tannoy announcements would interrupt performances," says Winkleman. "Somebody lost their bag, so I ran around trying to find this pink rucksack. A couple had an argument which I tried to solve but actually made worse. All that was happening around us – but that's the magic of street pianos."
Does she prefer presenting devilish shows like The Traitors? Or cosier series like Strictly and The Piano? "It turns out I like both good and evil," she says. "Don't make me pick. It'd be like choosing between cheese and chocolate."
The threesome have the chemistry of proper mates as they tease and trade in-jokes. "It's remarkable," says Mika. "We didn't know each other, we pretty much met on set. It could have been a complete disaster, but we had the best time." "It was love at first sight," says Winkleman. "Although these two have now got a restraining order against me."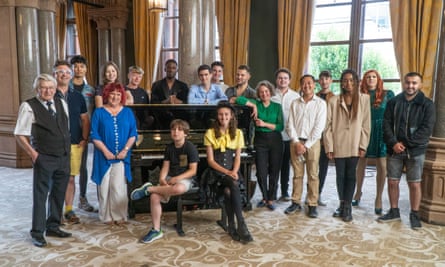 The judges come from different musical worlds but formed an instant bromance. Might it lead to creative collaboration? Lang Lang lets slip: "We perform together at the finale." "And we'd love to do something in the studio together," says Mika. Winkleman hoots at the idea of her joining in: "I had one trumpet lesson at school and couldn't get a sound out of it. I'm so unmusical I'm not allowed to sing Happy Birthday to family members. Not even on the tortoise's birthday." "There's always the triangle," says Mika.
A recurring theme is how many pianists self-taught during Covid. "We all picked up things in lockdown," says Mika. "I personally think playing piano is better than baking banana bread but that's just my preference. The piano is definitely getting more love. I've also noticed street pianos being used more. There's less fear and self-consciousness. Perhaps that's a post-pandemic thing too." "I think so," says Lang Lang. "There's more appreciation of live performance since we were denied it."
Do they hope The Piano will inspire a generation of pianists – the musical equivalent of the "Bake Off effect", which saw an upsurge in home baking? "I'm pretty sure more people will be interested in playing piano after this show," says Lang Lang. "It shows the sheer joy of music, no matter who you are."
"I hope Lang Lang is right," says Mika. "The show is a reminder that a train station isn't a cold place, just like the country isn't a cold place. When people stop rushing around and come together through music, everything feels a bit kinder. Look at me. I was treated like crap at school and badly bullied. I wrote so many songs sitting at the piano in the music room. Empowering myself through music gave me direction in life. That's why this show is important. We're helping open the door."
One last question. Did they all develop an addiction to train station food? "We tried every single takeaway outlet," says Mika. "Claudia might be lean but she eats more than me and Lang Lang put together. I don't know where she puts it." Claudia shrugs: "One day, I did four Chicken Royales at Burger King. Let's just leave it at that."
The Piano starts on 15 February at 9pm on Channel 4.
Denial of responsibility!
Rapidtelecast.com
is an automatic aggregator around the global media. All the content are available free on Internet. We have just arranged it in one platform for educational purpose only. In each content, the hyperlink to the primary source is specified. All trademarks belong to their rightful owners, all materials to their authors. If you are the owner of the content and do not want us to publish your materials on our website, please contact us by
email – 

[email protected]
. The content will be deleted within 24 hours.