From the incredible engine to the marvel of a manumatic trans, here're this ultimate 911's highlights—plus some nits to pick, too
Article content
It's the engine, stupid!
If it's a supercar, it's all about the engine. What it is, where you put it, and most importantly — because no matter how rich you are, you don't get to exercise its full power very often — what it sounds like. Lots of people don't know what engine is in a Toyota Camry — even if it's their own car — but you can't be any kind of auto enthusiast if you don't know Ferraris are powered by V12s, Corvettes by V8s, and inline-sixes are — or, until recently, were — the singular domain of BMW.
Article content
And, of course, Porsche has its Boxer six. Way out back where God and Ferdinand wanted it. Over the years, it's been two-valved, four-valved, and oft-times turbocharged. Porsche even tried to replace it with a V8 only to have a perfectly-good Gran Turismo rebuffed because Stuttgart tried to tell the cognoscenti that the 928 was a replacement for, not an addition to, the 911.
Article content
This one, in the 2022 Porsche 911 Carrera 4 GTS Cabriolet, is the 473-horsepower variant of Porsche's 3.0-litre Turbo and it's a good one. It's plenty meaty — it's 30 ponies up on the basic 911 and boasts 420 pound-feet of torque and is more sophisticated than any configuration dreamed up some 60 years ago has any right to be.
It also sounds a treat. This GTS version is a little more liberal in its interpretation of Canada's maximum allowable noise limit, and every decibel is music. Unlike many turbocharged engines that shut off early, the GTS' breathed-on 3.0-litre revs fairly freely to its 6,500-rpm power peak and beyond.
And, of course, it is, as I said, out back. The good part of the 911 arrangement is that the engine is right behind your ear, so all that aural delight is also right behind your ear. The bad news is that the 911 is, like the baby brother Boxster-cum-718, not amidships, but actually behind the rear axle. Traditional it may be, but I suspect that there are still a few engineers in Maranello and Sant'Agata Bolognese that wonder what kind of Zuffenhausen magic keeps Porsche's seemingly awkward chassis a-pace with their theoretically superior mid-engined supercars. Whatever it is, in the case of the GTS Carrera 4, tradition is served without sacrificing performance.
Article content
To its credit, Porsche, even though it plans to electrify much — actually, most — of its fleet, vows to keep the 911 internally combusting for as long as it is permitted. Surely, some kind of allowance can be made for something so iconic. After all, the 911's entire production run contributes barely 0.05 per cent of the three billion metric tons of carbon dioxide flowing from automobile tailpipes each year. For just a little perspective, this is how truly tiny the harm of such exotica is: consider that, if some rich aunt promised to leave you 0.05 per cent of her million-dollar estate when she passes, when you actually do the math, you'd find that would amount to a piffling $500 dollars. In the never-ending global crusade against automotive tailpipe emissions, that's barely a weekend bender.
Article content
Besides, Porsche is developing zero-emissions gas — synthesized from carbon dioxide captured from the air and hydrogen taken from our rising seas — that is barely more polluting than an EV. De-carbonizing the automotive industry is worth it. Killing off Porsche 911s — not to mention Ferrari V12s and the occasional Bugatti W16 — isn't. Whatever its fate, the GTS's Boxer six is the best of the latest generation of Porsche's turbocharged 3.0L.
Driving to find the history and meaning of Porsche's GTS line

First Drive: 2022 Porsche 911 GT3 Touring
I love Porsche's PDK
Porsche fairly started this dual-clutch manumatic stuff, and as far as I can see, it still has a technological lead. Toggle the steering wheel "Drive Mode" button to Sport Plus and gear shifts occur in a quick-fire 50 milliseconds, a rapidity that would have impressed an F1 driver just a few short years ago.
Article content
And yet, even in its go-faster mode, there's not even a hint that something mechanical — let alone something as dramatic as the separation of one set of clutch plates and the actuation of another — has occurred. And, in automatic mode, the darned thing is all but as buttery smooth as a torque-converted slushbox. Manumatics have come a long way in this regard, none more so than Porsche's PDK.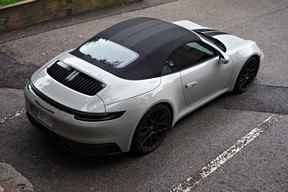 So, choose the seven-speed manual if you must believe that the days of burned-out clutches and slow starts were somehow "better days." But know that the eight-speed PDK is superior in every possible performance arena, the Carrera 4 GTS able to sprint to 100 kilometres 0.7 seconds faster using the dual-clutch manumatic. That's the difference between the supercar-like 3.6 seconds the PDK is capable of and the almost sedan-like 4.3s the manual version takes to get to 100 klicks. If that's not enough to convince you, know that the 510-hp GT3 only manages 3.4s. If you want all the performance your 911 was designed to have, you need to choose the dual-clutch eight-speed.
Article content
I'll say if even more directly: Were Ferdinand still alive and engineering today, he'd be aghast at the resistance to such a modern — and vastly superior — mechanical technology. He'd tell you, the 29 per cent of Porsche-ophiles who've so far ordered their GTSes with no-cost "stick" should stop living in the past.
The GTS' Bose is the best audio system I've sampled in a 911
Whatever Porsche has done with the 911's audio system, it's truly worked miracles. Oh, I know it's got 12 speakers and some bass-pounding 570 watts of musical power, but Porsche is always bragging about such outrageous numbers. What seems to be different is that this version of Bose Surround Sound has something called SoundTrue Enhancement Technology which the company claims "is highly effective at counteracting the loss of quality through data compression." It must be true, because the iTunes reproduction from my iPhone was nothing short of spectacular. The absence of distortion in such a small cabin amazing, especially the lower mid-tones — those responsible for the vocals — which are magnificent.
Article content
Now, more than a few of you are probably thinking — especially since I waxed lyrical about the exhaust note — that cars with such sonorous engines don't need fancy radios 'cause, well, you're supposed to be listening to the engine, stupid. But top down, trolling along at a sedate 80 kilometres an hour on a well-policed Ontario back road, the radio was the perfect antidote to the boredom of, well, Ontario back roads. George Clinton had me reaching for my "Flash Light" so I could help him "find the funk!" and by the time my wedding song list — I was supposed to get hitched this summer, but Italian bureaucracy got in the way — got to Amanda Marshall, I really was starting to believe in myself. You're going to have to go all the way up to the Bang & Olufsens adorning top-end Audis before you'll get sharper beats than this.
Article content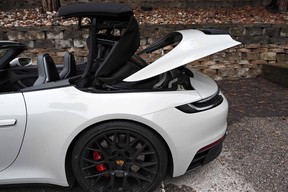 A few flies in the ointment
The GTS Cabriolet's chassis, like all ragtop Porsches of late, is more than rigid enough. For any kind of let's-call-it-enthusiastic street driving — including in autobahn'ed German — a 911 Cab will feel literally different from a Coupe. Ditto for resisting the twists and torsion of riding over rough roads. Seriously, if the ragtop Carrera can fend off Ontario's incredible potholes without twisting itself into knots, it's capable of handling any (paved) road on the planet.
That said, my tester had a few rattles in the cabin that are atypical of Porsches. Something behind the centre dashboard was clearly unhappy, and there was an occasional buzzing protest from the passenger door as well. Interior noises are almost always caused by the movement of small behind-the-scenes components, but it is the rigidity — or lack thereof — of the chassis that exacerbates their movement. I suppose I should mention that my tester already had 12,000 hard, journalist-driven kilometres on the clock. But, with a $173,700 starting price — and the actual $203,065 MSRP once Porsche Canada had ladled on the options — I'd expect more. That said, the Cabriolet's power-operated roof is a positively balletic in its retraction, takes less than 12 seconds to perform its pas de deux, and, once stowed, the 911's open-air aerodynamics are amongst the best in the biz. I don't know what caused the rattles in my car; I do know it's unusual for any Porsches I test to make even the slightest unwanted peep.
Article content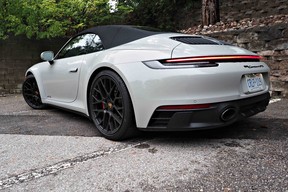 While, I am carping, I have to say that the Porsche infotainment screen has got to be the least appealing interface this side of a Nissan. "Boring" doesn't even begin to describe the blah-ness of Porsche's efforts at digitization. Thankfully, Apple CarPlay and Android Auto connection is now standard, and Porsche's wireless connection thereof amongst the most reliable. In other words, I just relied on my own song list — see sound system, re: George Clinton's Parliament-Funkadelic — and navigation system. It's almost always a toss-up whether I use the onboard infotainment system or my iPhone's. Not in the Porsche.
Buzziness and plain-Jane screens aside, the GTS is the best of the twenty-some 911 variants Porsche produces. Compared with the Carrera S, the GTS rides 10 millimetres lower, on stiffer springs — nearly 50 per cent in front and 18 per cent in the rear — which means that, yes, it's probably up to a track day or two. At the same time, the ride won't beat you up. It also makes delicious noises, but won't wake up the condo committee neighbours. Really, the hard decision is whether you get the rear-drive Coupe or Cabriolet, AWD Carrera 4 Coupe or Cabrio, or, finally, the Targa 4 edition.
I opt for either the Coupe or the Targa, Carrera 4 versions both, because my bald spot doesn't appreciate direct sunlight and I prefer the year-long capability of all-wheel-drive. Porsche's pricing might drive me to distraction — how can you possibly charge $330 to emboss the headrest in a car that starts at $173,700??? — but this is the best non-boy-racer version of the iconic 911 yet.
Denial of responsibility!
Rapidtelecast.com
is an automatic aggregator around the global media. All the content are available free on Internet. We have just arranged it in one platform for educational purpose only. In each content, the hyperlink to the primary source is specified. All trademarks belong to their rightful owners, all materials to their authors. If you are the owner of the content and do not want us to publish your materials on our website, please contact us by
email – 

[email protected]
. The content will be deleted within 24 hours.