The Extraordinary General Meeting to decide the fate of the CBI should be underway, at the lobby group's offices in Cannon Place, London.
Following the crisis at the CBI, following sexual misconduct allegations revealed by the Guardian, the group's members are being asked to support its reform plan. Journalists are not allowed into the meeting, though.
That prospectus, revealed last month, includes appointing a new president and giving members an annual vote on the make-up of its board, following claims of sexual harassment at the CBI made by more than a dozen women, with two separate allegations of rape.
CBI members will be asked to vote on the following resolution.
"Do the changes we have made − and the commitments we have set out − to reform our governance, culture, and purpose give you the confidence you need to support the CBI?"
Members can attend in person (in which case they'll get lunch after 1.30pm). It is due to last 90 minutes, with presentations and a Q&A.
The meeting was expected to start with a rallying cry from Rain Newton-Smith, CBI Director-General, saying:
"I'm confident and determined this will be a turning point for us. The start of a new chapter, for a renewed CBI.

"It's so important to me, and for those who raised their voices, to put our people, our culture and our values front and centre.

"This is a difficult but important journey. We've made great strides forward, but it will take real dedication. I am resolutely committed to leading that change and restoring the CBI to health.

"I know what this organisation can do when it is at its best. I've seen what we can achieve, and how powerful we can be in driving change. Even our competitor groups have admitted they can't match all that.

"We're ready to deliver a better CBI. We just need one thing now – your vote."
The result of the vote is due between 4pm and 5pm today.….
Key events
Newton-Smith: it's been an incredibly tough period
Rain Newton-Smith, the CBI's new Director General, has welcomed today's vote:
Newton-Smith, who was appointed DG in April following the dismissal of predecessor Tony Danker, says the CBI will "work tirelessly" to repay members' faith.
Newson-Smith says:
"After an incredibly tough period, I'm deeply grateful for the faith shown in us by our members. We've made real progress in implementing the top-to-bottom programme of change promised by the board and, while there remains work to do, today's result represents an important milestone on that journey.

"Even an organisation as established as the CBI is only as strong as its members. That support is something we have never taken for granted. We will work tirelessly to repay the faith shown in us and are committed to living the values and changes we have proposed.

"Let me be clear, we have listened, we have acted, and we will leave no stone unturned to be the best voice for business inside and out.

"We also heard another important message from members. That they want us to bring our breadth and depth of expertise, as well as our unique convening power, to bear on the economic challenges of the day."
CBI members back reform plan
Newsflash: The CBI says it has secured a strong mandate from its membership.
The business lobby group says that 93% of votes were cast in favour of its reform plan, out of 371 votes in total, with 23 abstentions/vote withheld.
The CBI says:
Reminder, the question was:
Do the changes we have made − and the commitments we have set out − to reform our governance, culture, and purpose give you the confidence you need to support the CBI?
Today's extraordinary general meeting was called to decide the CBI's fate after sexual misconduct allegations revealed by the Guardian, which led to several major companies to quit the CBI… and both the government and the opposition to suspend work with the group.
Three company bosses have told Sky News's Paul Kelso that they have backed the CBI's reform plan, and expect it to be passed in today's vote….
We could soon have a result on the CBI's referendum on its future.
Votes have been submitted electronically, either virtually or by members who attended today's meeting in person.
The result is expected between 4pm and 5pm today, once those votes have been independently counted and verified.
Elsewhere in business today, Marks & Spencer's co-chief executives both took home more than £2m in pay last year as sales and profits jumped.
Stuart Machin earned £2.5m including a £1m bonus and Katie Bickerstaffe earned £2.25m after a £989,000 bonus.
Their bonuses reflected them achieving just over 77% of their financial targets even after directors discounted £20.5m of profits gained following the acquisition of the group's food distribution partner Gist.
Both earned close to the figure earned by the group's former boss Steve Rowe in his final year at the company. He was paid £156,012 in salary for his last months as a director and then a further £76,000 before exiting the company in July last year, according to the group's annual report. M&S's statutory pretax profits rose by 21% to £476m in the year to April while sales rose almost 10% to £12bn.
In the year ahead, both its chief executives will receive a 3% increase in basic salary so that Machin will earn a minimum of £922,000 and Bickerstaffe £811,000 for her four-day week. If they meet performance targets they could earn £5.7m and £5.2m respectively.
We hope to have the result of today's CBI members vote, on whether they support the group following its reform efforts, within a couple of hours.
But, my colleague Nils Pratley writes, the outcome may not be clear…and could be open to interpretation.
Nils explains:
Why? Well, since several high-profile members – the likes of NatWest, the John Lewis Partnership and Aviva – have resigned, there is a slightly self-selecting flavour to the electorate. It has also been noticeable in the days since the CBI published its "prospectus for change" last week that corporate waverers – companies that "paused" or suspended membership – have not been publicly clamouring to get back into the fold. Maybe some are waiting for the meeting to make a splash or have returned without fanfare. But it's odd that the top letter-writers to the Times in defence of a 58-year-old British business organisation have been the UK subsidiaries of three foreign firms: Siemens of Germany and Microsoft and ExxonMobil of the US.

To change the script, the CBI really needs a few domestic FTSE 100 heavyweights to pipe up. Thus, even when the result of the vote lands, it may be hard to tell the difference between a ringing endorsement by loyalists and a show of general apathy by UK plc. This is an unusual poll. It is as much about who doesn't vote as who does.
So with the British Chambers of Commerce limbering up to take on the CBI's role with a new Business Council, today's vote at the CBI is probably not the end of the story….
More here:
World Bank: Poorest countries are biggest losers from economic shocks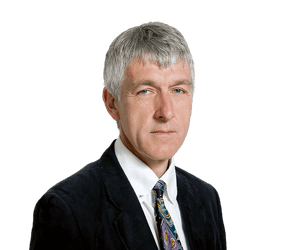 Larry Elliott
Away from the CBI meeting….the world's poorest countries are the biggest losers from a global economy failing to cope with the combined impact of the Covid pandemic, Russia's invasion of Ukraine and the tough anti-inflationary measures taken by central banks, the World Bank has said.
In its half-yearly update, the Washington-based body said the international community was well off course to meet the UN's 2030 anti-poverty development goals and warned of the risk of a fresh debt crisis for the most vulnerable countries.
The Bank said the global economy was struggling despite slightly revising up its 2023 growth forecasts and no longer fearing a second recession in the space of three years.
It said the upbeat news was already in the past and predicted a slowdown in the second half of the year as the impact of higher interest rates in rich countries rippled out to emerging and developing nations.
More here.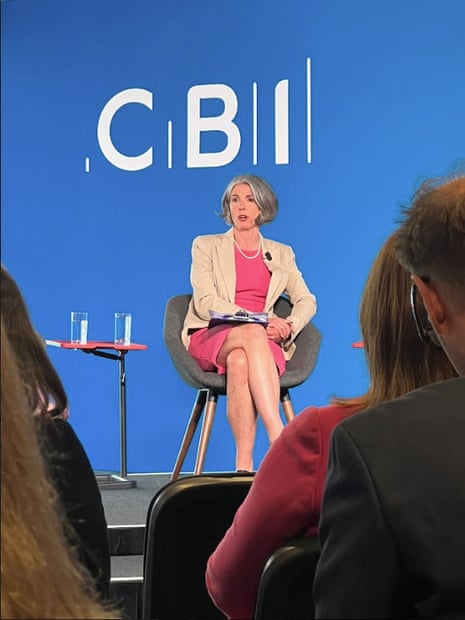 CBI director general Rain Newson-Smith ended her speech today by urging members to give the business lobby group their support.
She said:
We know you prize our ability to open doors to government and opposition parties.

The access we've given you for the last 60 years – to shape policy and regulation at the highest level.

You've told us you need to see that we can get back to that.

We can and we will. We just need your support.

In the last few days, I've had great conversations with members across the UK – where they've told us… yes. They do have confidence in us.

But the question now is – do you?

All of you gathered here today in person and watching online.

We're ready to deliver a better CBI.

We just need one thing now – your vote.

We have been there for you in the past, now this is a moment when I and our talented teams at the CBI need you.

Thank you.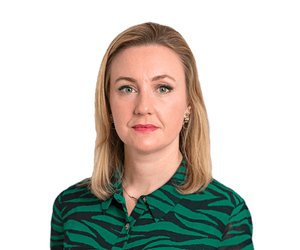 Joanna Partridge
One CBI member tells us that they estimated there were around 120 attendees at today's meeting, which has now finished.
There were also plenty of CBI staff outside, and in offices watching the meeting on TV.
The atmosphere in the room was "fairly positive", they add, with questions including when the CBI will reengage with the government.
They say it feels like the CBI will win the vote.
Denial of responsibility!
Rapidtelecast.com
is an automatic aggregator around the global media. All the content are available free on Internet. We have just arranged it in one platform for educational purpose only. In each content, the hyperlink to the primary source is specified. All trademarks belong to their rightful owners, all materials to their authors. If you are the owner of the content and do not want us to publish your materials on our website, please contact us by
email – 

[email protected]
. The content will be deleted within 24 hours.